Fibrenew specializes in leather and vinyl upholstery repair, including the restoration and renewal of leather, plastic, vinyl, and fabric. We specialize in upholstery repair for six major markets: automotive, aviation, commercial, medical, marine and residential. Our services include the repair of damaged vinyl and leather seats in your vehicle, boat, airplane, home, office or clinic.  Our services are environmentally-friendly and a cost-effective alternative to replacement.
Call 973-302-5705 or

Damaged leather couches and chairs, whether torn, worn, ripped, faded, is chewed by a dog, or covered in cat scratches, can be restored by Fibrenew. Blemishes such as burns, stains, holes and cuts can also be renewed. If you're looking to change the color of your leather furniture, turn to our expert color matching and re-dye services for all your upholstery repair.
Refurbishing damaged leather, vinyl or fabric seats in your car, truck, van, motorhome, camper, motorcycle or recreational vehicle not only enhances its appearance and comfort, it boosts the overall value of your investment as well. Whether you have faded or worn seats, a damaged leather steering wheel, a cracked dashboard, door panels or armrests, Fibrenew can repair it.
Vinyl Siding and Window Casing Repair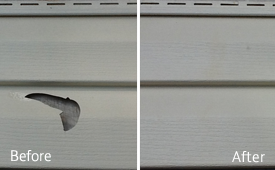 Fibrenew pioneered the process of repairing damaged vinyl siding and window casings. Our professionally trained technicians use proprietary techniques and products to fix holes from hail storm damage, golf balls, satellite dish mounts, construction mishaps and more. We currently work with many insurance companies for claim damage, homebuilders for warranty calls and directly with home owners.
Marine: seating and molding in boats, yachts and personal watercraft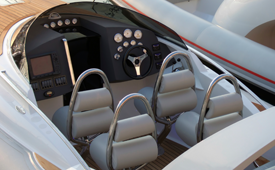 Exposure to sun, wind and rain can cause damage to marine seating and plastic moldings in boats, yachts and personal watercraft. Replacing these weather beaten components is expensive and often requires long wait times for replacement parts to be ordered and replaced. Restoration by Fibrenew saves boat owners time and money.
 We have high specialized products and techniques that specifically cater to restoring damage on examination tables and chairs in hospitals, medical clinics, veterinary clinics, massage and physical therapy offices and dental clinics.